5. December 2017
An AMAGNO Milestone: 10 Million Documents Secured in our Business Cloud
Only a select few, home-grown, "Made In Germany" solutions offer fully functional Enterprise Content Management and data storage in the Cloud right here in Germany, as opposed to the usual limited Enterprise File Storage options. As well as the On-Premise option, AMAGNO's award-winning Digital Workplace solution has also been available since 2011 with an almost full range of functions and a 300MB allowance, completely free of charge, on our very own AMAGNO Business Cloud.
Our most recent product release AMAGNO Version 5, includes exciting newly-developed options in the AMAGNO Business Cloud which we are proud to announce has passed the 10 million document milestone for the first time, reliably serving more than 20,000 satisfied users. This places AMAGNO firmly at the forefront of the top ECM cloud providers in Germany.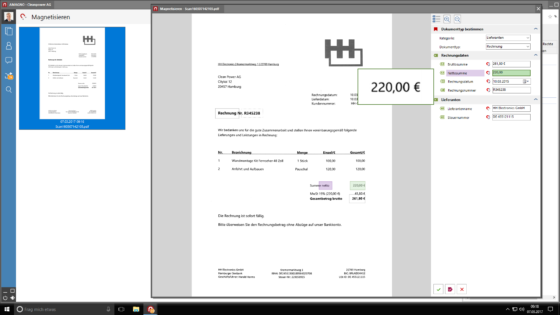 AMAGNO version 5 offers automated document recognition and intelligent data capture for all types of documents from all sources (scanned documents, files, emails etc.) as well as a broad rights management system to manage different user rights.
AMAGNO's all-new, innovative Living Documents™ technology allows you to experience your digital documents in the most interactive way ever. Surf through your files simply by clicking or touching any term included in the document.
AMAGNO Business Cloud users can choose to use the Native Windows Client via hotkey search from any application, e.g. to search for files directly from DATEV or Salesforce or by using the printer driver to store documents from merchandise management systems straight into your vaults in the cloud.
AMAGNO takes advantage of WebDAV protocol to process or store documents directly from iOS Apps into AMAGNO, as in the case of scanning, word processing or digital signature system apps.
Find out more and even download the latest version now at https://amagno.co.uk/cloud