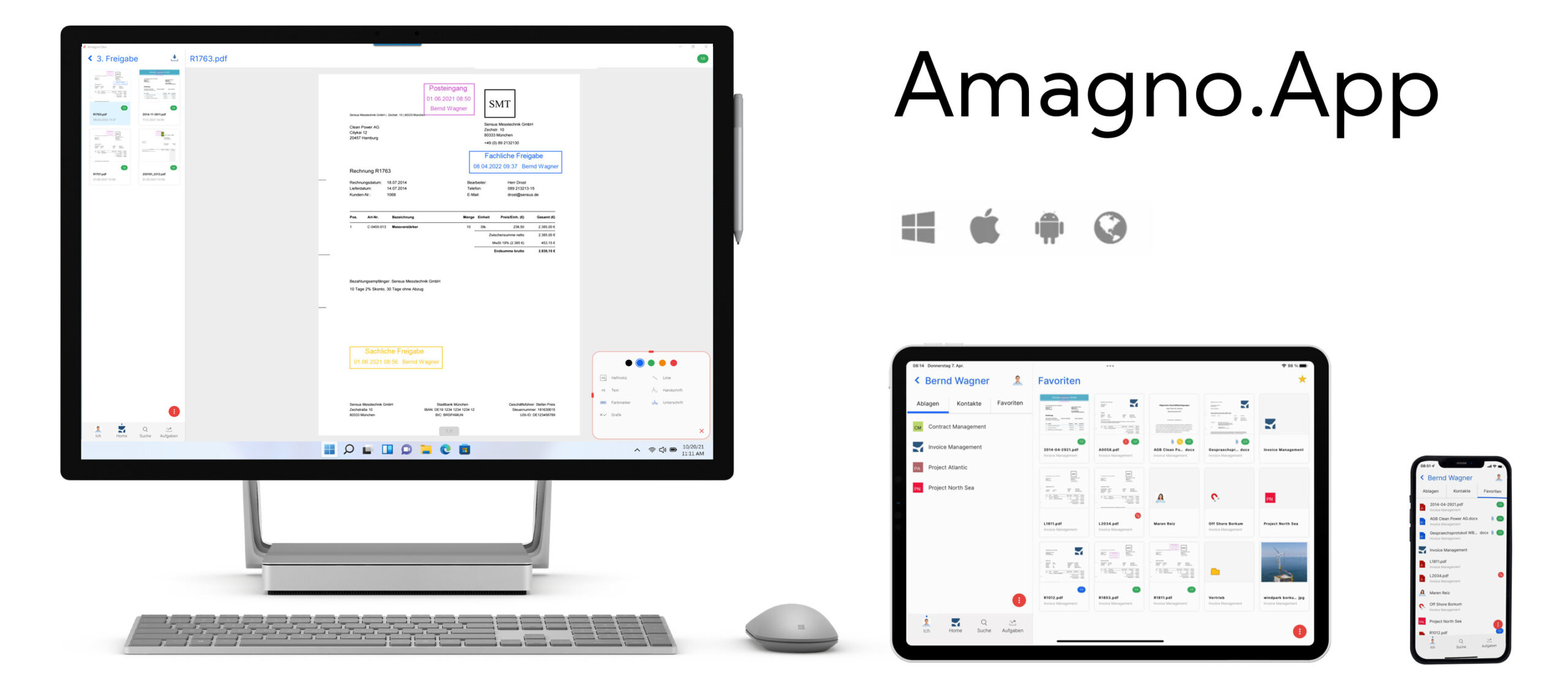 Amagno.App Beta for Version 6.7
The new modern Amagno interface for Windows, iOS, iPadOS, MacOS, Android and modern browsers. The Amagno.App can't do everything yet, but it can do a lot and will replace the current Amagno clients in the coming years.
Feedback?
Please use our dedicated portal to report bugs or issues related to the Amagno.App and exchange ideas with our team. Please respect netiquette!
What is a beta?
A beta version is a product version that is well before a quality-assured release. You use the app at your own risk. The app does not yet meet our requirements in terms of quality, operation, appearance and performance.
Support
To ease the burden of Amagno support for its customers and to maintain its SLAs, Amagno does NOT provide support through the well-known classic support channels (e.g. tickets). Please use the "Submit Feedback" option.
Added
Schweizer Cloud nun standardmäßig in der Serverliste
Added
Direktes Stempeln und Dokumentwechsel bei Doppelklick auf den Stempel
Improved
Anmerkungen werden konsistenter angezeigt
Improved
Verbesserung der Suchergebnisse auf dem Smartphone (Caching)
Improved
Neuer Loading-Spinner auf Vector Basis
Improved
Import via Drag&Drop auf Ablagen verbessert
Added
Berechtigungen implementiert
Added
Dokumenttyp-Kategorie erstellen
6.7.73063
23. September 2022
Das neue Update der Amagno.App umfasst zahlreiche neue Funktionen und Verbesserungen. Notwendig ist eine Amagno Version 6.7 Cloud/On Premise.
Added
Integrierter Solution Store der Amagno Business Cloud (zeigt aktuell nur Solutions ohne Magnetisierung und ohne Stempel, die Eingaben erforderlich machen)
Improved
Neue Client- und Servercaches für mehr Performance. Erfordert manuelles Aktualisieren der Listen
Added
Integrierte Hilfehinweise (Fortschritt Serverseitig pro Benutzer gespeichert)
Added
Vollständig neue App für MacOS (Apple Chipset)
Added
Vollständig neue App für MacOS (Intel)
Added
Bessere Information über Updates in der Windows App
Improved
Diverse kleine Optimierungen
Improved
Korrektur der Dateibearbeitung insb. in der Windows App
Added
Verbindungsverwaltung zu anderen Amagno Servern (ab 6.5)
Added
Darstellungsform von Listen via Pinch to Zoom verändern
Added
Veränderbare Dialoggrößen der Cards
Added
Neuer Bereích "Administration" in Ablage
Added
Benutzer aus Ablage entfernen
Added
Benutzer zu Benutzergruppen hinzufügen / entfernen
Added
Benutzer zu Ablagen hinzufügen / entfernen
Added
Suche unterstützt amagno:// Referenzen
Added
Geänderte Sortierung in Dokumentlisten und auf dem Schreibtisch
Added
Optische Korrekturen am Importdialog
Added
Neues Design der Registerkarten
Added
Papierkorb jetzt auf "Home" statt als Aufgabe
Added
Erklärungen und erste Aktion in leeren Listen
Added
Tooltips auf den Buttons der Schnellaktionen (via Maus)
Added
Import von mehreren Dateien via "Teilen" in iOS
Added
Import via "Teilen" in iOS
Added
Verlaufsbutton und Verlaufsansicht verbessert
Improved
Doppelklick/Doppeltouch öffnet Originaldatei
Added
Diverse Detailverbesserungen und Fehlerbeseitigungen
Improved
Diverse Performanceverbesserungen