16. August 2016
Display documents and images on other screens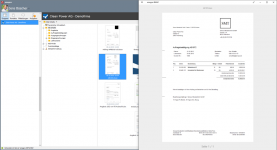 In some situations, it is necessary to compare the contents or appearance of documents with each other. For example, in the case of processing electronic invoices in financial accounting or checking to see whether a delivery note already exists for an invoice. To this end, alongside being able to quickly research and find information in AMAGNO, a document should be permanently displayed on a screen or e.g. a tablet.
For this purpose, AMAGNO offers its "BEAM" function with a so-called second-screen-app. With the AMAGNO BEAM app, free of charge and available for Android, iOS and as of Windows 8, documents can be displayed quickly and in large-format on other screens for external examination.
Displaying documents on other screens. It's so simple:
1. Install the app (for more information, go to https://amagno.co.uk/beam/) on your Windows PC and/or on your mobile devices, e.g. your tablet or surface.
2. Select a file in AMAGNO and select the entry "Beam" in the toolbox under "Send to".
After a short period, the file will appear in the AMAGNO BEAM app, enabling fast scrolling and zooming. The app and your AMAGNO require access to the Internet.
NOTICE: The development and availability of the product was completed in the summer of 2019 and will be replaced in the long term by an app with extended functions.