25. October 2017
Experience your Digital Documents on a Whole New Level: AMAGNO 5 Released
AMAGNO GmbH & Co KG is one of the fastest growing enterprise content management (ECM) and document management software companies in Germany with an average annual sales increase of over one hundred percent. With the long-awaited Version 5 of its software solution of the same name, it aims to set the standard for Digital Workplace solutions with the best possible experience for digital documents and the highest degree of automation in document storage.
AMAGNO wants to offer the best designed, most automated, attractive and secure assistant for everyone who deals with digital documents. AMAGNO version 5 has been improved with over one hundred new and optimised functions to achieve these goals.
Experience interactive digital documents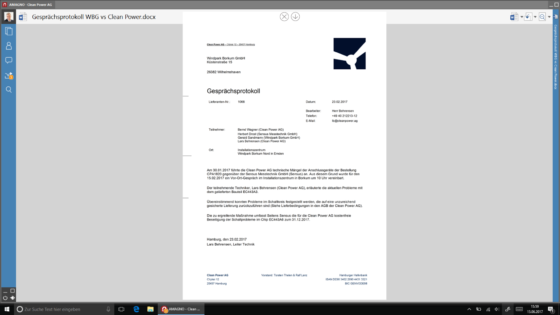 To get all generations of employees on board for your company's digitalisation process, they need to be at ease using digital documents.
AMAGNO 5 can help you achieve this through a cleaner, uncomplicated user interface and new interactive digital documents based on our very own AMAGNO Living Documents™ technology.
AMAGNO Living Documents™ technology displays files, emails and scanned documents (compatible with over 100 different file formats) in large preview areas and offers a full range of options to annotate, comment, and leave notes: from coloured highlighters to smart pen handwriting options.
AMAGNO enhances this experience with two intuitive technologies:
First, AMAGNO lets you capture information and "terms" that appear for use in other applications straight from the document previews by simply clicking on them and transferring to the Windows clipboard, let's say, for example, a bank account number on an invoice that you need to use in your banking app.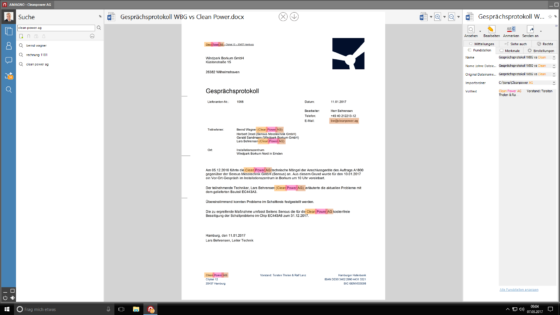 Additionally, by double-clicking on any piece information or "term" that appears in the preview, AMAGNO's powerful full-text search is activated and analyses information from across more than 100 different file formats, potentially delivering you millions of relevant results in a matter of seconds. AMAGNO highlights the relevant information and terms in colour within the preview images offering you clarity at a glance in your search results.
With AMAGNO Living Documents™ technology, you can surf through work documents simply by clicking or touching your screen. Experience your digital documents on a whole new level.
Automatic filing and data extraction from any document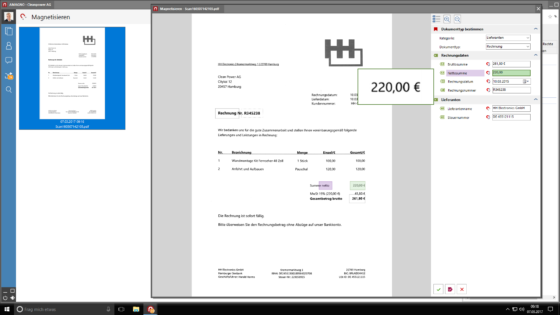 Every single day, in offices all over the world, employees from all kinds of departments and companies file thousands of documents in network drive folder structures or even in physical filing cabinets and manually record data for other uses. This is where AMAGNO wants to help employees all over the world. The goal is to get back to doing the important things at work, the meaningful things, and create more added value for the company.
Our team here at AMAGNO has gone to great lengths to develop our very own fully integrated mechanism to learn to recognise all documents from all sources (files, emails, scanned documents) enabling automatic recognition and to simultaneously recognise recurring data from documents in order to transfer them to third-party applications (merchandise management, financial accounting, etc.).
AMAGNO's new "magnetisation" function allows companies to eliminate a considerable amount of effort so that employees in all departments can focus on their real work. Unlike the market norm up to now, AMAGNO's highly integrated approach does not need you to install additional special clients, employ highly specialised users or scripts. With AMAGNO, automated document storage and data extraction becomes a natural tool for every employee and doesn't put a limit document types or amounts.
AMAGNO 5 available On-Premise and in the Business Cloud
AMAGNO offers lots of great new options with its well designed, automated, attractive and secure digital workplace and is available to all current AMAGNO customers of the more than 200 On-Premise installations and the more than 20,000 users of the AMAGNO Business Cloud.
AMAGNO GmbH & Co KG concentrates specifically on the needs of small and medium-sized businesses (SMEs) and ensures that the solution can be implemented very quickly thanks to its compact module-free concept, fast installation, easy import of existing folder structures and brief but in-depth standardised training courses.
Interested? Try the AMAGNO Digital Workplace software now for free. We are currently offering a no-strings-attached, contract-free trial of the AMAGNO Business Cloud at https://amagno.co.uk/cloud.