AMAGNO client and mobile use
For in the office and on the go
The AMAGNO client is your digital workplace. As locally installed software, the AMAGNO client connects to the AMAGNO server. This is either installed on the premises on the company's own server or in the cloud. After registering you can access all files and documents to which you have been authorized access.
In the digital workplace from AMAGNO you experience daily work that is free from the chaos of masses of paper and documents. With a clear and very intuitive user interface, you will know what you are doing straight away and be able to enjoy all the advantages of an Enterprise Content Management system.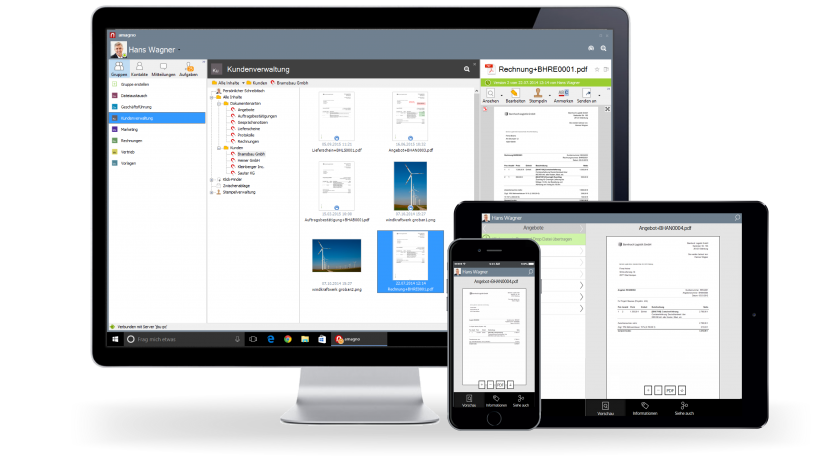 Easy to install and configure
The AMAGNO client is simple to download and install.
Intuitive and clear interface
You will know what you are doing straight away thanks to the clearly organised interface.
Mobile use via an internet browser
Access on the go via any modern browser.
Hardware requirements
The AMAGNO client has the following requirements for Windows:
At least 1GB of free RAM
At least 40MB of free hard disk space (not on a network drive)
In order to work, AMAGNO clients need access to the AMAGNO server
AMAGNO uses the ports 80 and 808
Software requirements
The AMAGNO client has the following software requirements:
Microsoft Windows Vista, 7, 8 or a later version. Installation on Microsoft Windows XP is currently still technically possible, but due to the expiry of Microsoft support is no longer officially supported by AMAGNO.
They also require the latest Service Pack on their Windows operating system.
Microsoft .NET Framework 4.0 Client Profile (is checked upon installation and is installed in addition if necessary)
Mobile access via web browser
If you happen to be out and about without your company laptop, AMAGNO can also be accessed via any modern web browser. Simply go to amagno.me and enter your personal login details. The mobile interface from AMAGNO is launched, which dynamically adapts to the end device being used. This means that access via smartphone or tablet is absolutely no problem. The mobile view is still very clear and intuitive so that you can use it with ease right away.
User handbook as documentation
Please note that AMAGNO is a comprehensive business application. For the installation and configuration of the AMAGNO server and client there are particular technical prerequisites.
The technical requirements and instructions listed here are designed to provide a broad overview. You can find further, detailed technical requirements, and installation and operation instructions, in our technical documentation.
Questions not related to the AMAGNO software are not part of an existing service agreement. We would be happy to offer support for these as extra services.