AMAGNO On Premise
Running On Your Own Windows Server
Enjoy your data privacy and run the AMAGNO document management software on your own On Premise servers. Directly in the company or in a data center. We rely on the latest technologies and proven Microsoft servers and client systems.
You can implement your own hardware and infrastructure as usual with your existing IT service provider. If desired, we would be pleased to provide you with an individual offer with one of our technology partners.
AMAGNO can be implemented as a fully developed complete solution without any monthly consulting effort within a very short time. In addition, we are able to manage the AMAGNO document management independently.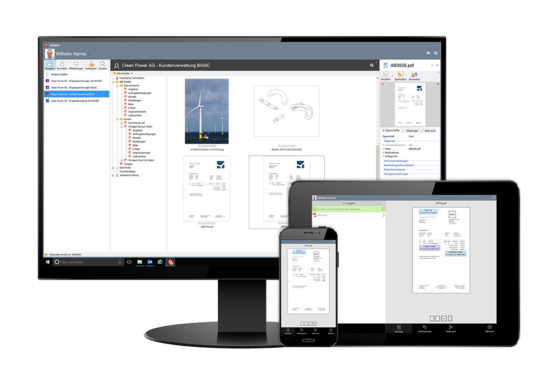 Das mehrfach prämierte Design von AMAGNO ist modern und zugleich Angstbefreiend für die Anwender für den Umstieg in die digitale Bürowelt
Complete
Kein Modulchaos.
Keine Scan- oder Dateilimits.
Scalable
Skaliert mit Ihrem Wachstum. Von 5 bis 1.000 Anwender und mehr.
Personal Service
Kompakte Trainings und Workshops für eigenverantwortlichen Betrieb.
Possibilities with AMAGNO On Premise
With AMAGNO, we want to digitize the analogue working world in offices. Files, receipts, emails are stored centrally and are retrieved from millions of content in seconds. Work together and use digital business processes, even with your business partners without media breaks.
The ECM / DMS system AMAGNO was designed to offer the company a single product with complete Setup with all clients, functions, import and export possibilities. The goal is to prevent complex introductions and complex services for companies that can not and do not allow luxury to interrupt the valuable work of employees over several weeks.
In addition to the stylish, highly integrated and fully integrated AMAGNO solution, you will of course get by us
Compact installation support, coordinated trainings and workshops
Updates
Support using phone and email
Our mission is to take care of your real work and no longer deal with search and filing.
Uncompromising functionality
AMAGNO is a comprehensive business application with functions that go beyond a simple file storage (local or on the Internet). Hundreds of features enhance your daily work. A small excerpt:
Client for Windows and Mobile Client inclusive
Import via drag & Drop, Print Driver, Email Client, etc
Comprehensive scanning options including new OCR without page limitation
Organize colleagues and any external readers in secure groups
Full-text search in over 100 file formats
Thumbnails for over 100 file formats
Freely definable meta data for all documents (tagging)
Search from any application via Hotkey Search
Find in millions of documents in seconds
Digital magnets automatically organize the storage according to your rules
Data collection for workflows and evaluations by clicking
Version management with display of content version differences
Long-term archiving with retention periods including protection against deletion
Notes on document preview (notes, lines, texts)
Workflows via digital stamps (accounting, contract management, quality management and much more, as freely definable)
Interfaces
A digital workstation is not an insulin solution. AMAGNO On Premise provides numerous interfaces for importing, exporting, and collaborating with other applications.
Simply import via drag & Drop entire structures, use WebDAV or server-side hotfolders for data transfer, e.g. From your network scanner. Use the Restful API interface for individual development and start the search for terms from any application such as FIBU, ERP, CRM or specialist applications via key combination. Use IMAP for manual or automatic mail import.
Export individual files to any structures with versions, meta data as CSV and XML.
In addition, we offer you possibilities to connect to DATEV, Navision, Sage and SAP. Please do not hesitate to ask our sales team.
Security And Compliance
ECM / DMS solutions, such as AMAGNO On Premise, have basically been developed to comply with legal requirements.
AMAGNO, of course, fulfills the requirements for compliance Needs(i.e. FDA). Numerous companies have already been successfully and properly examined by AMAGNO in the context of AMAGNO, although it does not exempt you from the obligation to file a procedural documentation. AMAGNO is only an important part of your legal requirements.
This is similar to many other norms and laws, in which AMAGNO can provide a valuable legal basis, for example, in the area of quality management, food law, pharmaceutical and other areas.