AMAGNO Business Cloud
Instant Use Your Digital Workplace
You can rely on the AMAGNO Business Cloud and do without the costs and expenses of your own IT. AMAGNO maintained its cloud infrastructure in secure data centers on its own servers in Germany.
The AMAGNO Business Cloud brings you the full power of a comprehensive enterprise content management solution with all its numerous features and offers you a simple price scalable model. You can export your data at any time.
To operate on a separate server, use the AMAGNO On Premise.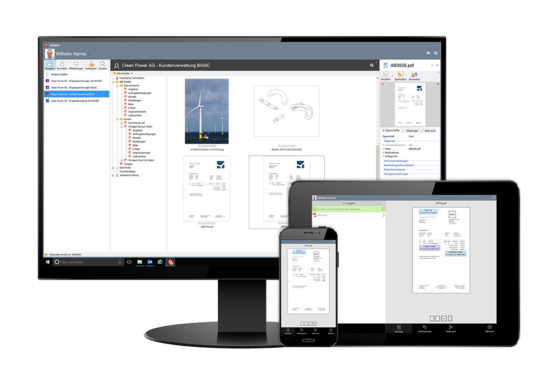 Comprehensive ECM
Kein Modulchaos. Keine In-App Käufe. Eine Software. Alles drin.
Clear Pricing
Starten Sie ab drei Benutzern und skalieren Sie beliebig nach oben.
Independently
Keine Abhängigkeit. Exportieren Sie jederzeit Ihre Daten zurück.
Complete ECM in the cloud
With AMAGNO, we want to digitize the analogue working world in offices. Files, receipts, emails are stored centrally and are retrieved from millions of content in seconds. Work together and use digital business processes, even with your business partners without media breaks.
The AMAGNO Business Cloud is not a stripped-down EFSS. It offers you a wide range of functions, including all clients, functions, import and export possibilities via the cloud. And the risk factor, because you can test the AMAGNO Business Cloud 30 days.
In addition to the stylish, highly integrated and fully integrated AMAGNO solution, you will of course get by us
Training
Updates
Support using phone and email
Our mission is to take care of your own work and no longer deal with search and filing.
Uncompromising functionality
AMAGNO is a comprehensive business application with functions that go beyond a simple file storage (local or on the Internet). Hundreds of features enhance your daily work. A small excerpt:
Client for Windows and Mobile Client inclusive
Import via drag & Drop, Print Driver, Email Client, etc
Organize colleagues and any external readers in secure groups
Full-text search in over 100 file formats
Thumbnails for over 100 file formats
Freely definable meta data for all documents (tagging)
Search from any application via Hotkey Search
Digital magnets automatically organize the storage according to your rules
Data collection for workflows and evaluations by clicking
Version management with display of content version differences
Long-term archiving with retention periods including protection against deletion
Notes on document preview (notes, lines, texts)
Workflows via digital stamps (accounting, contract management, quality management and much more, as freely definable)
Security
Transfer your data via secure data streams to the AMAGNO Business Cloud. We host our own servers in data centers in Germany that are equipped with very high security standards.
Your files secure and encrypt AMAGNO in the Cloud as well as in the On Premise version through numerous mechanisms. AMAGNO monitors the data consistency from the start of the import via the client to the storage on our cloud sites, so that files can not be stored incorrectly or manipulated on the transfer path.
More than 10,000 users from numerous companies are already working in the AMAGNO Business Cloud
Interfaces
A digital workplace is not an isolated solution. The AMAGNO Business Cloud provides numerous interfaces for importing, exporting and collaborating with other applications.
Just import it via Drag & Drop entire structures, use WebDAV or optional FTPS for data transfer, e.g. from your network scanner. Use the Restful API for individual development and start the search for terms from every application such as financial accounting, ERP, CRM or specialist applications via key combination. Use IMAP for manual or automatic mail import.
Export individual files to any structures with versions, meta data as CSV and XML.
AMAGNO Business Cloud (Germany Area)

Pricing AMAGNO Business Cloud (Germany Area):
| Number | each User/Month | |
| --- | --- | --- |
| 3 – 9 | $59 | |
| 10 – 19 | $49 | |
| 20 – 39 | $39 | |
| 40 – … | $29 | |
AMAGNO Business Cloud address Business user. The minimum purchase price is three processing licenses for $177. Reading licenses are included without limitation. Minimum contract duration are 12 months. After that you can terminate the contract each month. Under 10 licenses, you get 25 GB of cloud storage, over 100 GB – of course expandable at any time. We take no initial configuration or setup fee.
Tax/Vat not included.
30 Day Trial
Start now with the 30 day trial without any contracts.